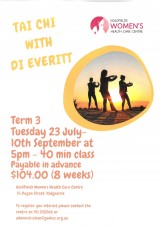 Tai Chi with Di Everitt
Posted
Join Di and discover the benefits Tai chi..

A form of exercise that began as a Chinese tradition. It's based in martial arts, and involves slow movements and deep breaths.
Tai chi has many physical and emotional benefits including decreased stress and anxiety and is a form of mediatation.