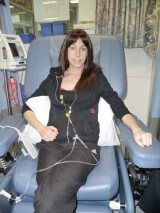 Too Young for Breast Cancer
Posted
One of the youngest to be diagnosed in Australia and no family history. Emma Crowther had an intense and aggressive treatment plan that included 15 rounds of chemotherapy, 30 rounds of

radiation, tablets injected into my stomach tissue monthly and placed on a clinical trial which consisted of weekly IV treatments. All at the tender age of 22 years...